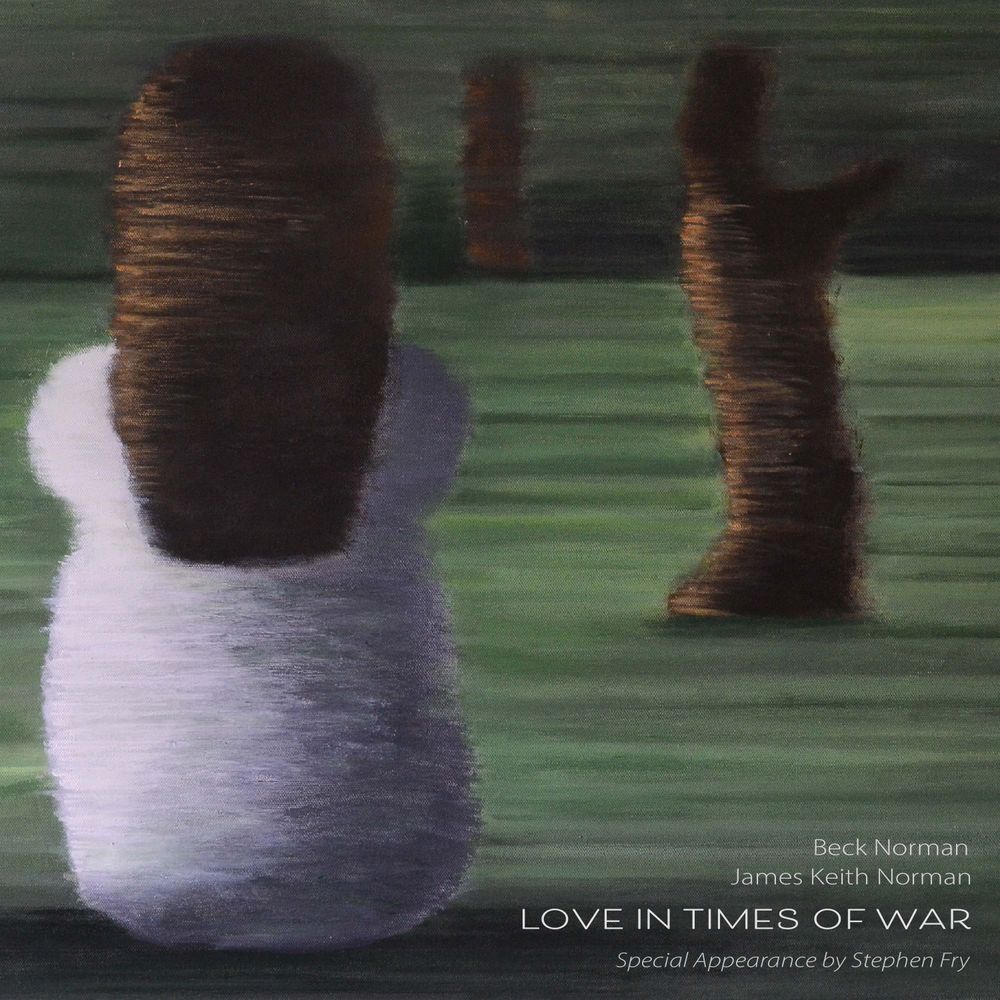 About "Love in Times of War"
A MUSICAL NOVELLA *
THE STORY
After losing her lover in a brutal war, a pregnant young woman sets out to raise her child in a peaceful life – until history repeats itself. An engaging, impactful story of two generations' lives and loves.
This is Love in Times of War, a remarkable, original, 28-cut concept album that consists of 14 riveting spoken-word narrations that alternate with 14 emotionally charged instrumentals that complement and evolve this timeless, proudly romantic story to its fateful conclusion.
Script written and narrated by Beck Norman. Music composed by James Keith Norman.
THE STORY BEHIND THE STORY
By April 2020, having worked on a new collection of instrumentals for about two years, James told Beck he thought he finally had enough songs to record. He was also hoping to record them with the London Symphony Orchestra. Problem was there were enough songs for an album and an EP, but he only wanted to do an album.
"Play them for me," said Beck.
James did, and Beck quickly blurted, "That's not the order. The story goes like this."
James asked, "What story?"
And she told him. James had never envisioned these instrumentals as telling a single story. But, because of the music, Beck had seen the story so clearly through the music. And so was born the concept of what Beck and James were soon calling Love in Times of War.
Throughout the spring and summer of 2020, while COVID 19 raged throughout the world, Beck wrote and rewrote the basic story, tweaking it as she worked through a total of 57 drafts of the narrator's parts). Then began the recording of the spoken words.
In addition, together, they worked to try and accomplish two goals: to get the legendary Stephen Fry (a much-in-demand actor who appeared in The Hobbit movies, and who narrated all of the Harry Potter audiobooks) to be the voice of The Poet on one of the cuts of this project, which Beck and James were now calling Love in Times of War; and to get the LSO to record the music.
The first goal – enlisting Stephen Fry – was accomplished to their great delight. After all, Beck and James had envisioned Stephen would be the perfect performer of the spoken-word part in the song "We Will Welcome You Home."
The second goal – recording with the London Symphony Orchestra – fell by the wayside because of logistical, health and safety issues due to COVID.
After other inquiries, Beck found that working with any orchestra would present the same challenges. So, James, in his Toronto studio, began transforming his music demos into final tracks, primarily using many of the music industry's leading virtual instrument libraries, the same ones used by many of today's film and game score composers. The exception was the cut "Commencement", which features lead guitarist Jon Conley, whose performance was recorded in Nashville. (Jon also performs brilliantly on James's 2014 album That's Right.)
Fine-tuning the tracks took place in the autumn of 2020. By the winter of 2021, James and Beck were ready to mix the album. At that point, they were thrilled to connect with an incredibly brilliant mix engineer in the UK named Matt Lawrence. This Grammy Award winner's résumé reads like a Billboard chart, having worked with performers such as Lady Gaga, Adele, Mumford and Sons, Amy Winehouse, and Eric Clapton, to name just a few.
Over the course of about six months, Matt worked with the tracks, transforming them in sometimes surprising but always magical ways into a beautiful album that will be enjoyed for many years to come.
* One way of describing LITOW is as "Enhanced" Program Music. Program music is defined by Wikipedia as "a type of instrumental art music that attempts to render an extra-musical narrative musically." To us, LITOW is "enhanced" program music because it not only features narrative-rich instrumentals but also spoken-word segments that tell – and complete – the story.
LITOW's creators also call this album "a musical novella" because it is an audio narrative whose spoken-word cuts alternate with instrumental tracks that both complement and evolve the story as much as the spoken-word elements do.
In either case, we believe you'll agree: There is no listening experience quite like Love in Times of War.